Festival MEO Monte Verde 2023, evento que se realiza de 10 a 12 de agosto na Praia do Monte Verde, na Ribeira Grande, tem como destaques: L7nnon, Steve Aoki, Lukas Graham, Delfins, Diogo Piçarra, Karetus, Profjam, Hybrid Theory, Rui Veloso, T-Rex, entre outros.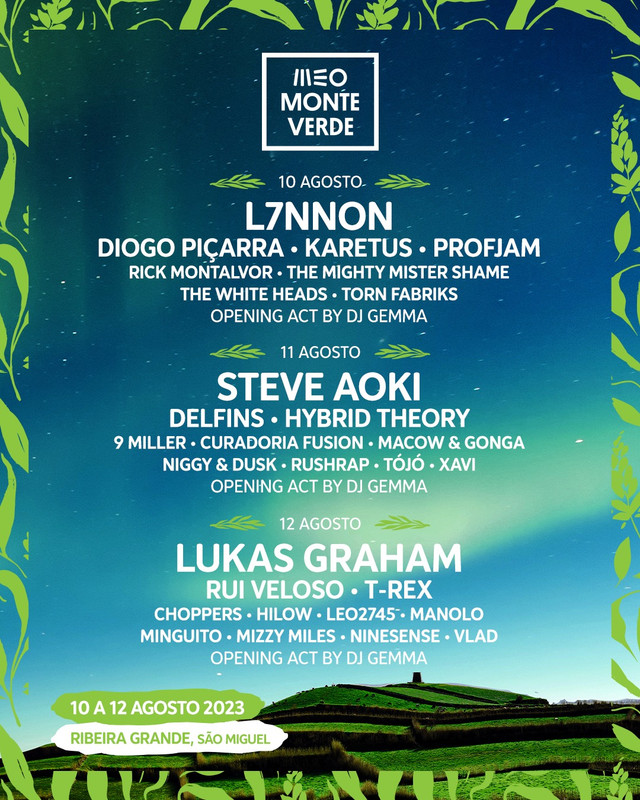 Playlist do MEO Monte Verde 2023
L7nnon
Lukas Graham
Steve Aoki
Delfins
Spotify 2018Videos Monte Verde 2018/2019Lineup 2018/2019Bilhetes e CampismoPáginas OficiaisMapa da Localização do Festival
Vídeos do Monte Verde Festival 2019
Steve Aoki
Joss Stone
Souza
Videos Monte Verde Festival 2018
James
James Arthur
Blaya
Lineup do Monte Verde Festival 2019

8 de agosto
9 de agosto
10 de agosto
Steve Aoki
Dealema
T4X1
Sara Cruz
Tiago Nacarato
João Moniz & The Daydreamers
2clubbers
Brazil Dub
Fitacola
Macow & Gonga
Souza
Voyagers
Joss Stone
Delta Heavy
Dillaz
Frankie Chavez
Mishlawi
Morbid Death
Flight of Eden
Manolo
Skills And The Bunny Crew
Spliff
TÓJÓ


Urkesta Filarmoka
Eagle-Eye Cherry
Vitalic
ProfJam
Vant
Plutonio
Azax
Phoenix R.D.C
D1scofever b2b Mike Tech
Manel The Island Man
RushRap
SippinPurpp
Yuzi
Acid wizard
Lineup do Monte Verde Festival 2018

Palco Ribeira Grande
Palco Goshawk
9 de agosto
The Ultimate Love Gang, Isaura, James, Beatbombers, Dirtyphonics.
Swift Triigga, Fingers Mitchell Cullen, Supa Squad, RushRap, Chris Carreiro.
10 de agosto
Prisma, Blaya, Wet Bed Gang, James Arthur, Vini Vici, Souza.
NBC, Marta Carvalho, Prof Jam, DJ Ride,Holly.
11 de agosto
The Quiet Bottom, Slow J, Piruka, The Hives, DJ Kitten, Macow & Gonga, Neurotronik / Psytoon.
New Society, Opal Ocean, King John, Primal Attack, Stereossauro, Manolo Tavares.
PASSE GERAL 2ª FASE €35,31 (€33,00)
PASSE GERAL COM CAMPISMO 2ª FASE €40,66 (€38,00)
Bilhetes à venda na
seetickets
.
Praia do Monte Verde, Ribeira Grande, Açores
Pode querer ver também: