Festival Leyendas del Rock 2023, evento que se realiza de 9 a 12 de agosto no Polideportivo de Vilhena, em Alicante, Comunidade Valenciana, tem como destaques os Megadeth, Bullet for My Valentine, KK's Priest, Michael Schenker, War Cry, Arch Enemy, Beartooth, HammerFall , Amaranthe, DragonForce, Sepultura, Ugly Kid Joe, entre outros.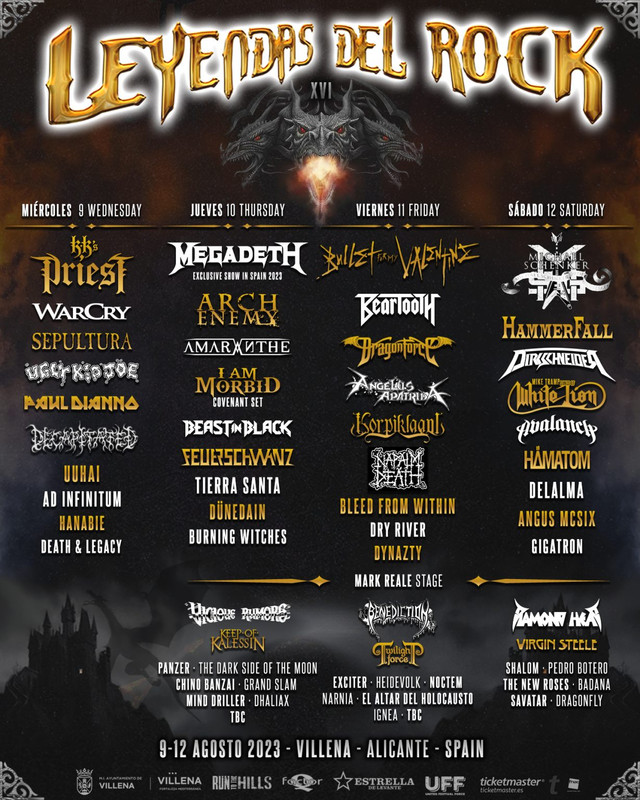 Spotify 2018AftermoviePáginas OficiaisLineup 2018/2020Ver Mapa
Festival Leyendas del Rock 2020 (cancelado)

Powerwolf
Gotthard
Stratovarius
Saratoga
Ensiferum
Sphinx
Tokyo Blade
Kobra and the Lotus
Unleash the Archers
Hardline
Venom Inc
Jinjer
Ratt
Brothers of Metal
Lèpoka
Power Quest
Celtian

Confirmações do Festival Leyendas del Rock 2019
Airbourne, Eluveitie, Saurom, Deicide, Avalanch, Koma, Dark Moor, Saratoga, Tierra Santa, Lords Of Black, Gloryhammer, Badana, Flotsam & Jetsam, The Lazys, Lèpoka.
Lineup do Festival Leyendas del Rock 2018
Nightwish, W.A.S.P., Warlock, Saxon, Children Of Bodom, Suicidal Tendencies, Mr. Big, Rosendo, Powerwolf, Abbath, SA Soziedad Alkoholika, Kamelot, Warcry, Watain, Sonata Arctica, Sepultura, DragonForce, Amorphis, Devil Driver, Thunder, Van Canto, Stravaganzza, Lujuria, Fozzy, Ross The Boss, Nocturnal Rites, Turisas, Jupiter.
Pode querer ver também: