Festival Noroeste Estrella Galicia 2023, evento que se realiza de 9 a 12 de agosto na Corunha, Espanha, com entradas livres, tem como destaques: Pongo, Parov Stelar, Primal Scream, Lori Meyers, La MODA e mais 45 nomes, em 9 palcos.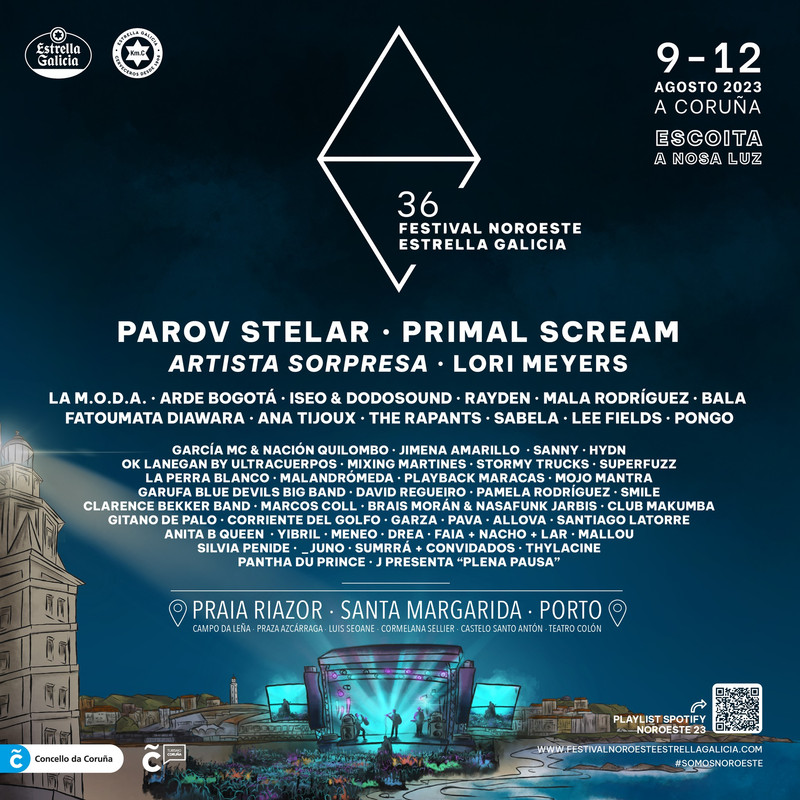 AftermovieVídeos 2018Lineup 2017/2022BilhetesPáginas OficiaisMapa da Localização do Festival
Vídeos do Festival Noroeste Estrella Galicia 2018
The Pretenders
Viva Suécia
Belle and Sebastian
Temples
Lineup do Noroeste Estrella Galicia 2022

Playa de Riazor
12 de agosto
13 de agosto
Bratzantifa
Zahara
Tanxugueiras
UB40
Helena Egea
Baiuca
Muelle de Trasatlánticos
10 de agosto
11 de agosto
Dorian
La La Love You
Amparanoia
Delaporte
Parque de Santa Margarita – 11 de agosto
Emir Kusturica & The No Smoking Orchestra
Ana Moura
Dios Ke Te Crew
La Pegatina
Maika Makovski
Luna Ki


Outros nomes confirmados
A Pedreira
Biznaga
Corizonas
Crnds e Imma Veiga Live
Familia Caamagno
Julián Maeso Sexteto
Miguel Costas
Néstor Pardo
Teresa Ferreiro

Lineup do Festival Noroeste Estrella Galicia 2021

Alice Wonder
Cimafunk
Javiera Mena
Los Zigarros
Marlango
Mujeres
The Soul Jacket
Triángulo de Amor Bizarro
Baiuca
Combo Paradiso
Lina & Raül Refree
Morjane Jl
Rulo y la Contrabanda
Zahara
Bala
Bastards on Parade
Dl Blando
Ptazeta
Tito Ramírez
Víctor Coyote
Ataque Escampe
Bush Doctors
Chasis
Mad Martin Trio
Sound Sisters

Lineup do Festival Noroeste Estrella Galicia 2019

Patti Smith and her Band
Belako
Nathy Peluso
Andhrea & the Black Cats
Anni B Sweet
Baiuca
Bart Davenport
Basanta
Blanco Palamera
Chiquita y Chatarra
Chisme
Contenedor de Mierda
Derby Motoreta's Burrito Kachimba
DJ Inclusivo
Dois
Dr. Spectro
ELBA
Electra
Elvis Negro
Emma Pollock
Escuchando Elefantes
Faia
Hailu Mergia
Hickeys
Holly Miranda
Holywater
Indy Tumbita & The Voodoo Bandits
Jenny and the Mexicats
Joe Crepúsculo
La URSS
Ladrillo y Mujer
Las Antonias
Los Árboles
Los Estanques
Los Hermanos Cubero
Los Punsetes
Los Vinagres
Los Voluble
Lucifer
Mac N' Rones
Mastodonte
Morgane Ji
Morgen
Mundo Prestigio
Músculo!
Night Shades
Ñaco Goñi + Marian Ledesma & Tinaquero Brothers
Os Amigos dos Músicos
Pablo Lesuit
Pardo
Paul Collins
Ruiseñora
Santi Araújo
Seda
Silvia Penide
Soleá Morente
Superser
Teething
The Last Internationale
The Sey Sisters
The Wellgreen
Toundra
TT Syndicate
Turbo Kraks
Turma Caipira
Volcanes
Vudú
Zu

Lineup do Festival Noroeste Estrella Galicia 2018

7 de Agosto
Bea a de Estrella, Carla Green & The Demons, Dorian Wood, Glitchgirl, Group A, Mad Martin Trío, Mordem, Nave Nodriza, Neneh Cherry, Playa Desmayo, Rocío Márquez, The Big Lis Gumbo Band, The Devils, The Limboos, Trilitrate, Wondermind, ZA!
8 de Agosto
Andhrea & The Black Cats, Aullido Atómico, Carmela Pequeña, Christina Rosenvinge, Dona Rosa, Escuchando Elefantes, Honeymoon Disease, James Holden & The Animal Spirits, Las Antonias, Maria del Mar Bonet, MounQup, Mueran Humanos, Nathy Peluso, Nzumbe (feat LCTRCT), Oh!Mega, Rayo, Roy Ellis, Voodoo.
9 de Agosto
Ana Curra, Astrogirl, Aurora & The Betrayers, BFlecha, Bobkat'65, Capsula, FAB, Hexany, Kabbalah, Laetitia Sadier Source Ensemble, Les Filles de Illighadad, Maika Makovski, Maria Arnal i Marcel Bagés, Me and The Bees, Melenas, Mursego, Nastasia Zürcher, Nortones, Oh! Ayatollah, Pleasure, Ship of Fools, The Lákazans.
10 de Agosto
Belle and Sebastian, Elman, Esposa, Los Nastys, Malraio, Marem Ladson, Mohama Saz, Selvática, Temples, Tunduru.
11 de Agosto
Espejos y Diamantes, Esteban y Manuel, Juana Chicharro, LOLA, Neleonard, Núria Graham, The Pretenders, Tulsa, Viva Suecia.
12 de Agosto
Aldaolado, Ángel Stanich, Birds & Cables, DJ Inclusivo, La Plata, Los Estanques, Morgan.

Lineup do Festival Noroeste Estrella Galicia 2017

Adrián LeFreak & Eva Picnic, Adrift, ALA.NI, Alien Tango, Ånima, Atrás tigre, Aviador Dro, Bala Bifannah, Boyanka Kostova, Calero, Captains, Carlos Dorian, Cia Campillo, Crim, Cygne, Dagla, Dani Nel-Lo, Dani Peligro, DJ Espinoso Petardpop – Vigo, DJ Flow, DJ Occy, Druso, Eager Platypus, Eladio y los seres queridos, Emilio José, Enric Montefusco, Espiño, Futuro Terror, García MC, Harakiri, Helado Negro, Hongo, Honky Tonk Lucky y Rawthebarber, Iago Gordillo, Indomable, Isaac Peces, Iván Ferreiro, Jordi Pánico, Juanpopp, Jules & The Wolf, Kaiser Chiefs, Kino L-Cobra, Klüte, Lamprea explosiva, Lascivos, Leia DJ, Les Sueques, Less fortunate songs, Lisa & The Lips, Los bengala, Los mambo jambo, Luga, Lula Pena, Malandrómeda, Marc Dorian DJ, Marcos, Mielitza, Mourn, Naranja imaginario, New day, New Day DJs, New York Ska-Jazz Ensemble, Os Gru, Pálida, Pantis, Prexton, Proyecto Moucho, Puma Pumku, Pumba DJ, Quique Escamilla, Radio océano, Reflexión Sonora Dj, Ricky Hombre libre, Rodrigo Leão, Rolling bowling, Romance, Rosalía & Raül Refree, Salmiak, Salto, Samesugas, Sen Senra, Servando (Aviador Dro), Seward, Stereomotor DJs, Surfin' bichos, Swans, Selección Noroeste, Terrier, The allnight workers, The Jesus & Mary Chain, The Preachers, The Riggos, The soul jacket, Tito Lesende, Tórtel, Travesti afgano, Valgeir Sigurðsson, Vic IWanna, Vurro, Wild animals, Wild Honey, Window pane, Xoán Curiel, Xoansinho.
PODE QUERER VER TAMBÉM: