Horários dos concertos do Festival Vilar de Mouros 2023, evento que se realiza nos dias 23, 24, 25 e 26 de agosto, na freguesia do município de Caminha, e que tem como destaques os Limp Bizkit, The Prodigy, Pendulum, James, Within Temptation, Millencolin, Apocalyptica, Xutos e Pontapés, Ornatos Violeta, Enter Shikari, entre outros.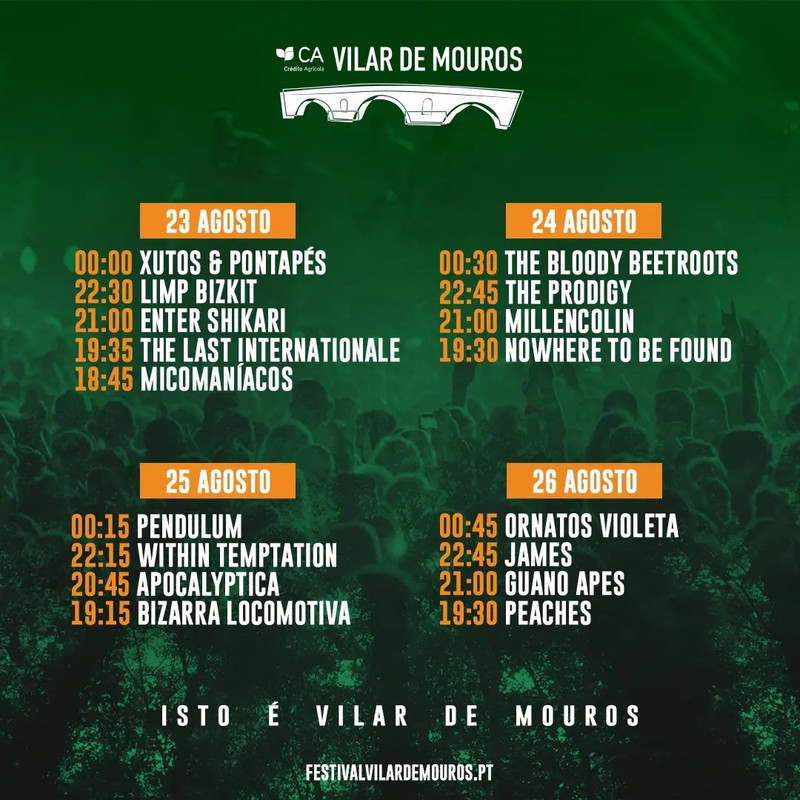 Lineup do Festival Vilar de Mouros 2023

23 de agosto
24 de agosto
Limp Bizkit
Xutos & Pontapés
Enter Shikari
Last Internationale
Micromaníacos
The Prodigy
Millencolin
Bloody Beetroots DJ
Nowhere To Be Found


25 de agosto
26 de agosto
Pendulum
Within Temptation
Apocalyptica
Bizarra Locomotiva
James
Ornatos Violeta
Guano Apes
Peaches
Playlist do Festival Vilar de Mouros 2023
Limp Bizkit
The Prodigy
Pendulum
James
Within Temptation
Apocalyptica
Millencolin
Enter Shikari
Spotify 2018Reportagem 2017Vídeos 2018/2022Lineup 2017/2022Bilhetes e CampismoPáginas OficiaisMapa da Localização do Festival
Vídeos do Festival Vilar de Mouros 2022
Bauhaus
Iggy Pop
Placebo
Simple Minds
Vídeos do Festival EDP Vilar de Mouros 2019
The Offspring
Prophets of Rage
Gogol Bordello
Manic Street Preachers
The Cult
Skunk Anansie
Therapy?
Sisters of Mercy
Anna Calvi
Gang Of Four
Fischer-Z
Nitzer Ebb
The Wedding Present
Linda Martini
The House Of Love
Clan Of Xymox
Vídeos do Festival EDP Vilar de Mouros 2018
Human League
PIL
Pretenders
"Bauhaus"
Incubus
Editors
John Cale
Los Lobos
dEUS
James
Lineup do Festival EDP Vilar de Mouros 2022

25 agosto
26 agosto
27 agosto
Placebo
Gary Numan
Suede
Battles
The Black Teddys
Simple Minds
Black Rebel Motorcycle Club
Clawfinger
Tara Perdida


Non Talkers
Iggy Pop
Bauhaus
The Legendary Tigerman
Blind Zero
The Mirandas
Lineup do Festival EDP Vilar de Mouros 2019

Palco EDP
Palco MEO
22 de agosto
The Cult
Manic Street Preachers
Anna Calvi
Therapy?
The Wedding Present
Tape Junk
23 de agosto
The Offspring
Skunk Anansie
Nitzer Ebb
Sisters of Mercy
The House of Love
Clan of Xymox
24 de agosto
Gogol Bordello
Prophets of Rage
Linda Martini
Fischer-Z
Gang of Four
Jarojupe
Lineup do Festival Vilar de Mouros 2018

23 de agosto
Cavaliers of Fun, Plastic People, PIL, The Human League, Pretenders, 40 anos dos Bauhaus com Peter Murphy e David J.
24 de agosto
Scarecrow Paulo, GNR, David Fonseca, Editors, Incubus, Kitty, Daisy & Lewis.
25 de agosto
Luís Severo, John Cale, Los Lobos, dEUS, James, Crystal Fighters.

Lineup do Festival Vilar de Mouros 2017

24 de agosto
The Veils, The Young Gods, The Mission, The Jesus And Mary Chain, Primal Screen.
25 de agosto
Golden Slumbers, Peter Bjorn and John, Salvador Sobral, The Dandy Warhols, Capitão Fausto.
26 de agosto
Zanibar Aliens, Avec, The Boomtown Rats, Psychedelic Furs, Morcheeba, 2ManyDjs.

Lineup do Festival Vilar de Mouros 2016

25 de agosto
Manuel Fúria e os Náufragos, Peter Hook and The Light, The Legendary TigerMan, Happy Mondays, Peter Murphy, António Zambujo.
26 de agosto
NEEV, Linda Martini, Milky Chance, Echo & The Bunnymen, David Fonseca, Orchestral Manoeuvres in the Dark.
27 de agosto
Samuel Úria, Bombino, Tiago Bettencourt, The Waterboys, Tindersticks, Blasted Mechanism
Passe 4 dias (23, 24, 25 e 26 de Agosto) – 120,00€
Passe 3 dias (24, 25 e 26 de Agosto) – 90,00€
Bilhete diário – 45,00€
O Passe dos 3 dias vai dar novamente acesso gratuito ao campismo e irá estar a funcionar desde as 16 horas de dia 21 de Agosto até às 14 horas de dia 27 de Agosto.
PODE QUERER VER TAMBÉM: